When most people hear the word "diplomacy", they think of diplomats, politicians and presidents sitting around a table strategizing ways to avoid a war.  For some high schools students who dream of future career in politics, international relations or perhaps entering the Peace Corp, this is a really exciting view.
But what about young leaders who dream of being entrepreneurs, doctors, teachers, parents, or working in technology?  What about those youth who haven't decided what career they want to pursue? How will meaningful dialogue and skilled diplomacy help your future?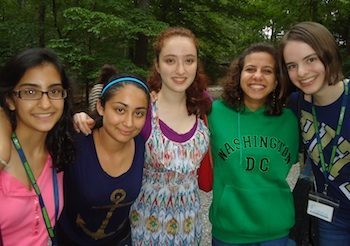 The skills learned in the Global Youth Village's Dialogue and Diplomacy Workshop have long lasting benefits, here are five:
Get a great job

According to Forbes magazine's, The 10 Skills That Will Get You Hired in 2013, Active Listening ranks #4 (behind 1)critical thinking, 2)problem solving and 3)judgment, see GYV's Leadership Development skills).  Forbes defines active listening as "giving full attention to what other people are saying, taking time to understand the points being made, asking questions as appropriate and not interrupting. " Active listening is a key skill developed during D&D.  While engaging in many fun "listening games" you can practice the skill and learning more about your international  friends at GYV.

Become a Leader 

Whether you are running for class president, have to organize a group for a project or want to start your own business in the future – good communication is key to being a leader in any field.  More specifically, communicating with an open mind is vital to great leadership.  According to Forbe's article, 10 Communication Secrets of Great Leaders, "a leader takes their game to a whole new level the minute they willingly seek out those who hold dissenting opinions and opposing positions with the goal not of convincing them to change their minds, but with the goal of understanding what's on their mind. "  As a D&D participant, you learn how to have open conversations with people who have different points of views and opinions on important subjects.  You'll learn it is much more powerful to listen to all points of view than to simply push your own.

Stand up for yourself and others

Whether you are defending a friend who is being bullied, or discussing a seemingly unfair grade on your latest history essay with your teacher, you will use skills you learned in D&D.   Merriam-Webster defines diplomacy as "skill in handling affairs without arousing hostility".  When you are approaching someone who bullies, or an authority figure, it is important to do so calmly and in a way that won't make the other person angry.  In D&D you learn and practice technique that allow you to speak your mind in a way that will keep everyone calm and respectful and will ensure that your voice is heard.

Succeed in college/ university 

At college, you need to be able to listen to long lectures while paying close attention and listening for important details.  Sometime this can be really difficult, if the class is early in the morning, or if your professors like to tell lots of stories or use complicated vocabulary.  During D&D you will practice particular techniques that will make listening for key details and important information easier.  You learn how to concentrate on what someone is saying and learn to filter the important parts from the less important. (Read about how D&D helped GYV participant Momin from Iraq prepare for medical school)




Travel smart  

Many students these days travel either the year between high school graduation and the first year of university, or study or volunteer abroad while in college.  International travel is a once-in-a-lifetime experience that you want to make the most out of.  Learning how to talk with "the locals" in any new city or country will help you find the best restaurants, tourist attractions and will help you meet interesting people!  D&D teaches you how to communicate with people from different countries and cultures.  It will also help you understand the importance of keeping an open mind while in a new place. (Read more about GYV participant international travelers)
Have more questions about how a Dialogue and Diplomacy workshop will help you?  Post a comment below and a Dialogue and Diplomacy instructor will reply!