It's 7 AM and the birds have been singing outside the cabin window for a while now.  You're a bit tired because you've been up half the night cracking up about a funny performance you saw last night during the evening programs. Your friendly cabin counselor is already up and encourages everyone to start making their way to the bathhouse. Forty-five minutes later, you and your new Iraqi, Indonesian and German friends are heading down the hill for a tasty pancake breakfast. Yum!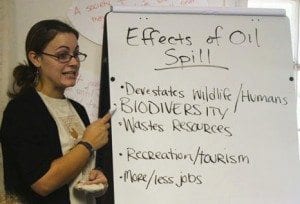 In your peace-building workshop today, you are practicing mediation techniques and learning how to improve your listening skills.  You are amazed at how much you learn each day.  The facilitator is never boring and she is always using fun teaching methods like games and simulations. You are beginning to understand what leadership is all about and you get lots of opportunities to practice being a leader.
Time flies when you're having fun because it's already lunchtime! A traditional Indonesian dish, gado gado,  is being served for lunch.  You're still getting used to the vegetarian meals and discovering that they are pretty good.
After lunch, you unwind in your cabin and listen to your i-Pod for a bit.  Next, it's time for electives. This session, yoga, rock-climbing, African dance and pottery are some of the electives being offered. You can't wait to try pottery for the first time!!! At 4:15, the camp store opens and everyone can help themselves to an organic cold drink, chips or an ice-cream. Just what you need to cool off on a hot summer day. You sit next to your new friend from France and ask him what typical school day is like and discover it's a bit different from yours. It's free-time now, so you choose to play ping-pong with another friend from Nigeria and you win! The daily schedule seems to offer a lot of variety.
At dinner time, you offer to teach the group how to say 'Thank you' in Chinese before the meal. You make it back up the hill for a rousing game of soccer before gathering time. This evening program is Wacky Olympics and the staff have put together a cool program: a watermelon eating contest, cracker-whistle game, bean-bag obstacle course and  a dress-up relay!  Your team loses the relay but wins the watermelon eating contest!!  It's already 11 PM and time to head back to the cabins.  You're tired but happy. It's been another typical yet amazing day at the Global Youth Village!