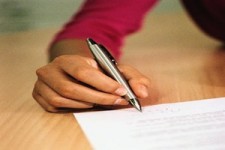 We are now accepting submissions for the annual GYV essay contest!  Entrants are invited to answer one of the four following questions:
1. What do you think are the the most pressing barriers to the U.N. Millennium Development Goals and why? How can some of those barriers be lifted? (For a list of the goals, please visit: http://www.un.org/millenniumgoals/).
2. How do you personally define peace? What do you feel are three of the best ways to create peace in this world?

3. It's the year 2050. Describe what our world will be like and what kind of qualities a future hero would need to possess.
4. Bullying is a now recognized as a serious problem, especially in the United States. Is bullying going on in your school or neighborhood? Describe the steps you would personally take to mitigate the issue.
Contest Rules
All essays must comply with the following contest rules before submission:
No literary form other than an essay will be accepted.
Each essay must reflect the contestant's own research, writing and original thinking.
Only one (1) essay may be submitted by each contestant.
Essays must be typed.
Essays must be a minimum of 800 words.
Send a copy of the essay to:


Global Youth Village
Att: Innocentia Afa
1020 Legacy Drive, Bedford, VA 24523

If you wish to send the essay by e-mail, contact Innocentia Afa at iafa@legacyintl.org.
Entries must be postmarked on or before contest due date which is April 20, 2011.

Essays will be judged on the following 4 categories: comprehension, organization,  creativity and writing (spelling, punctuation grammar etc). The winner will receive a $1,200 scholarship to the Peace Building program, July 5-16.
Good luck!