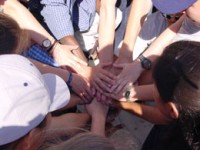 Global Youth Village international summer camp is all about building a community.  On the first day of the session, Orientation Day, Peacebuilding and Dialogue Workshop teacher Jennifer Lewis led participants in an exercise in which they created a visual representation of their ideal community.  There were a lot of common themes – renewal, energy/green technology, people living in harmony, and end to hunger and poverty.  We then discussed the idea that GYV can become a microcosm, or a testing ground, where they work on creating their ideal community.  Mid-way through the session, we had a community meeting to check in with how the GYV community was developing and what participants and staff could do it improve it.
Participants were paired with a staff member who was there to assist them, but the young people themselves were responsible for leading the small group discussions.  Leadership is a key theme during the program. Groups spent a few minutes brainstorming before narrowing down their ideas to the best and most effective.  As I wandered between the groups, I was impressed by how thoughtful and thought-provoking the ideas they were generating were.  There were the silly ideas I expected to hear – a zip line to get people down the hill to dinner, air conditioning in the cabins, more ice cream – which we all giggled over, but there were also a lot of ideas that helped the staff see some of the gaps and points of frustration in the program and which helped the participants see what they could do themselves to make the experience better for everyone. Many of the ideas they came up with had to do with efforts the participants could undertake themselves – including people more in activities, making an effort to speak a common language, saying please and thank you, sitting with someone they didn't know at a meal.  Others involved projects that would bring participants together while improving their physical surroundings, such as painting murals on the cabins or building a shady spot to sit in the afternoons.
One of the favorite suggestions was to create a forum where students can continue the discussion they start in their workshops or start new discussions.  Some ideas suggested included a question board where people could post ideas that they wanted to talk about.  The staff sometimes assumes that the participants are talked out after so many workshops and afternoon activities, but apparently we were wrong.
The first discussion took place the following afternoon.  Participants convened and led the discussion, which was on moral relativity, but staff were invited to take part, and a few did.  The discussion grew out of a discussion in peace building, where participants declared that before they could decide if they agreed on any shared morals, they needed to decide where those morals came from.  Topics for subsequent discussions are still being decided, but we all expect that the vibrant, lively discussions will continue until the end of the session, and that participants will leave with a plethora of new ideas and questions about how to build their ideal community. Submitted by  Sarah Rose Jensen, Youth Services Director