This summer GYV has been delighted to host a group of 26 students from Yemen. They are a dynamic group with lots to share. Recently they were given the opportunity to lead some workshops sharing about their culture with the other camp participants. They self-organized into smaller groups and chose to lead workshops on clothing, language and dialect, dance, and culture.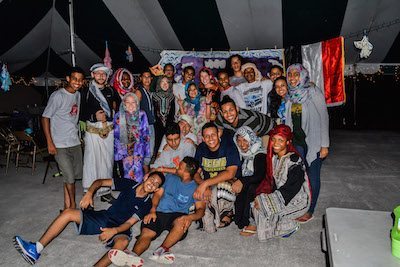 The other campers learned to locate Yemen on a map, watched a video showing the beautiful and diverse landscape of the country, and looked at pictures of the many different kinds of typical dishes. The Yemeni students brought out a wardrobe's worth of traditional clothes for the participants to try on while learning to dance the Yemeni way. In the language and dialect class they learned how to write their arabic name, basic arabic words, and some Yemeni slang.
Everyone enjoyed the opportunity to learn more about this unique culture which has played such a major presence at camp this summer. It was evident, too, how much the Yemeni students enjoyed sharing with the others. With this cultural background the participants seemed to reach a deeper level of understanding, overcoming language barriers and bridging differences as they shared about the thing that means the most: home.