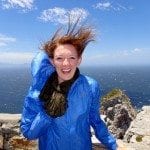 As MLK Day and the National Day of Service approach,  Aly Higgins, a Global Youth Village alumna, reflects on how an experience in South African expanded her understanding of Service and Leadership:
"During the month of December, I traveled to Cape Town, South Africa- an incredible city both liberated and haunted by its victory against apartheid. I traveled through an International Service Learning (ISL) Program at my school, the University of Denver. The ISL program was the perfect opportunity to continue my passion for travel and service, which I discovered through my time at the Global Youth Village.  While in Cape Town, I completed grants and other marketing tools for Siyakhathala Orphan Care in Khayelitsha Township. Siyakhathala is an organization that provides emotional support, academic tutoring, song and dance therapy, and access to social services for child orphans, victims of sexual abuse and rape and teen mothers. While I was excited for this next adventure, I was a bit hesitant about completing service abroad.
A glance at any major newspaper headlines today can lead anyone to believe the world and the 'damned' continent of Africa needs saving. And I asked myself: who am I to be superman? Was I, a sheltered female from Boulder, really the right person to "play God"? I looked at leaders and activists born in the local community thought they were the "right people" to affect change in the community. But then I remembered my time at the Global Youth Village:  At GYV I realized that I am not just an American, I am first and foremost a human.  And as a human in this world, I have the right and the responsibility to serve and to help other humans.  I don't need to "save the world", I do not need to dominate, but I do need to serve in any small way I can.  To me, that is the most powerful type of leadership.
While I was in Cape Town, the great Nelson Mandela passed away. I remember losing myself in his memory at Cape Point. I was standing at the end of the African continent just as the world experienced the end of an era. We may never see the likes of Mandela again, but I know that the world will continue to spread his goodness and passion. An unshakable vision for change is now on our shoulders- his light shows us a path ahead. Once again, my identity as a visiting 'other' was stripped away. I was not an American, but a human celebrating our beloved peacemaker. GYV was constantly on my mind because it was the first place that I felt human. At GYV, I was able to love. I felt like I could create a better vision for the future- a vision that I am now fulfilling.  I owe my unwavering commitment to practical idealism and my dedication to leading through service, to the rustic cabins of GYV. Cheers to an amazing journey in Cape Town and the new opportunities that 2014 may bring."– Aly
Aly is an alumna of the Global Youth Village and traveled to Indonesia as part of Legacy's Indonesia-U.S. Youth Leadership exchange program.  She now attends Denver University where she studies International Studies and Leadership.  She is part of a campus living-and-learning community called The Pioneer Leadership Program through which students develop and implement community change initiatives.  Aly is now applying project planning skills she learned at GYV and developing a program  that addresses college and career readiness in undeserved high schools in the Denver area.
Through her time at GYV and her service in South Africa, Aly discovered that service can be the most powerful type of leadership.  Learn more about GYV's leadership philosophy and tell us: What does serving as a leader mean to you? We welcome your thoughts in the  Comments section below!