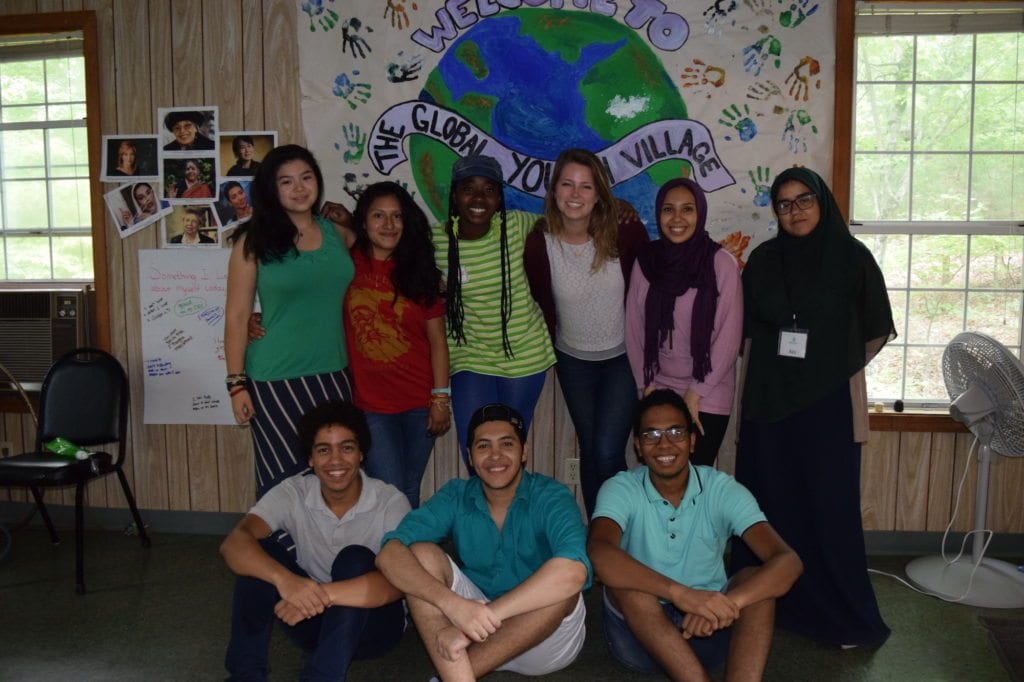 Global Youth Village Welcomes Teens From Egypt!
The Global Youth Village has hosted hundreds of teenagers from around the globe since 1979. We are now accepting applications from Access alumni from Egypt. Sixteen youths will be selected to join us for a 19 day program.
Application deadline was April 14, 2018! NO MORE APPLICANTS BEING ACCEPTED
A summer at Global Youth Village builds self-confidence, promotes flexibility, and leads to a well-rounded person. The 14-day Global Youth Village program and the five-day Washington, D.C. tour combines for an amazing educational experience. Our staff members are highly trained and qualified to make the most of this pivotal time in a teen's life.
ELIGIBILITY CRITERIA – PLEASE REVIEW CAREFULLY -ONLY APPLY IF ELIGIBLE:
Between

17-19

years of age during the program dates

Completion of two years

of Access program and demonstrating intermediate to advanced English speaking and comprehension skills
An Egyptian citizen
Demonstrated interest in the culture and history of United States
Demonstrated interest in leadership development
Committed to follow-on application of their learning (at least 1 formal presentation to peers upon return home)
Preference will be given to individuals who have not previously traveled abroad nor would have the opportunity if it weren't for this program. YOU ARE NOT ELIGIBLE if you have previously traveled outside Egypt on any U.S. government funded program within the past three years or if you have accepted a scholarship for an impending U.S. Government-funded exchange program. (Sample programs include YES.)
Willing to get a passport quickly at your expense
Legacy International does not discriminate based on race, gender, religion, and socio-economic status among participants. Legacy has an established record of including individuals with disabilities and insures an open and inclusive application process. We provide reasonable accommodations as needed to people with disabilities.
Program Details:
Your schedule will include:
Session One
July 5: Arrival in Washington DC – meet and greet with Legacy staff
July 6-19: 14 day immersion at Global Youth Village in foothills of Blue Ridge Mountains. Please review website for details and videos.Global Youth Village's summer program.
July 19-23: Study tour of Washington DC visiting local historical sites and learning about US government and history, service project, day at King's Dominion Amusement park
July 23: Depart USA for Egypt
Program Expenses:
It costs nothing to apply.
With the generous support of the U.S. Department of State and other donors to Legacy International, most of the costs of this experience are covered. Applying students, their families, and sponsors pay only miscellaneous personal expenses named below.
Applicant and his/her sponsors and supporters pay for:
Passports, clothing, medical exams, and/or suitcases.
Pocket money for souvenirs while in United States (a minimum of $50 is recommended)
Any airline fees for overweight luggage or second suitcase
Legacy and program sponsors provide:
Round trip Air transportation with a chaperon Cairo to Washington, D.C. to Cairo
All travel, lodging, meals, and any entrance fees during your stay in USA
All program supervision, activities, including educational events, service projects, group cultural events, educational materials, adult escorts and supervision, etc.
Accident and sickness insurance (subject to specific limitations)
Timeline:
Application deadline: April 14, 2018
Legacy staff to review applications and select 40 young people for phone interviews
10 minute phone interviews will be conducted between April 19 and 26 by Legacy staff.
April 26-30 Legacy staff making final determinations
May 1 – Finalist and Alternates announced
May 2-June 1 – Visa application and interviews
June 5 – Air tickets purchased and you are on your way!