Written Content and Images by Hayley Pottle
What have you learned about leadership?
"Leadership is something we learn by practicing."
This powerful statement was spoken by one participant from Algeria, 16-year-old Rissal, who found his own leadership potential and skills at Global Youth Village this summer.
One of the most impactful elements to the Global Youth Village is the emphasis and training in leadership, equipping youth to return to their communities and countries with new insights and perspectives. For Rissal, he found that leadership is not possible without collaboration and cooperation.  "We all complete each other.  We complete each other's strengths."
This leadership development becomes realized in workshops and team building activities throughout the program.   Participants put into practice dialogue skills  during  purposeful exchanges.  When organizing a cultural showcase, each must identify everyone's strengths and include others in planning and implementation.   The Algerian cohort were able to share their heritage with their fellow participants at the "Cultural Focus" night through traditional Algerian music, dance, and traditions, as well as providing a history and perspective of the country through games and visuals.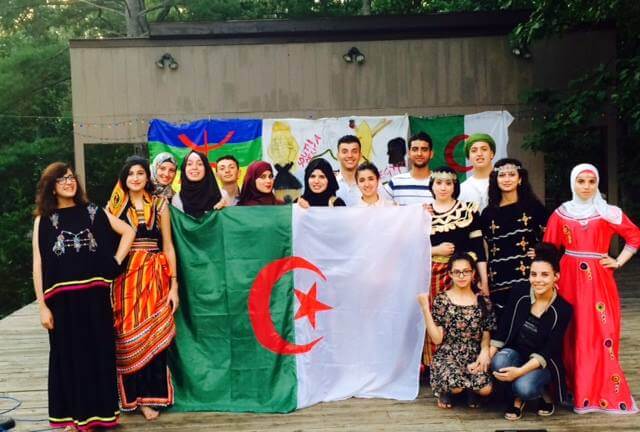 Oussama, another participant from Algeria, described his experience at GYV to be empowering and discovered that "leaders must have communication skills and be willing to listen carefully."
Leadership development at GYV is a cross-cultural experience as students are also pushed outside of their comfort zones to build connections with others from diverse backgrounds and grow their own skills. Hania found this experience at camp to be instrumental to her personal development. "I thought it was hard at first to connect with others from different ethnicities, but I found as my experience grew, I was able to speak English more fluently, develop self-confidence, practice public speaking, and most of all, make friends. As an Algerian, I can carry this responsibility back to my country."
Annella from Algeria has seen the powerful impact her leadership development at GYV can have.  She reflected, "Leadership provides one with self-knowledge that can be to offered to friends and community back home." She found that this program provided a safe space to grow and build  skills personally and professionally. "You know each day you are going to go and learn something," she said.
Global Youth Village truly provides an avenue for youth to learn from one another and develop their own personal leadership style to carry with them throughout their lives.