A celebration of cuisine where Top Chef meets Iron Chef meets Chopped meets potluck meets Global Youth Village.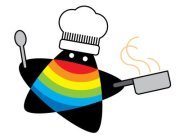 Legacy International in conjunction with Wish Come Happen, held a Global Cooking Competition Fundraiser in Washington DC on Saturday.  The event was a rousing success with over $430 raised for the GYV Scholarship Fund. Early in the day two pre-selected teams of three people received an assignment for a three course meal, which included special instructions for ingredients and other fun twists. They spent the day shopping, preparing, and cooking, convening in the evening to taste test the culinary creations. A panel of judges sampled the creations and chose the team with the "most interesting use of ingredients" and "best flavor impressions" overall. Diners who attended to participate in the meal as well made donations per person to sample from the buffet of all of the teams' dishes. Tell us about your ideas for a fundraiser – or host one with your friends. We invite you to make a donationto the Global Youth Village
Here were some of the winning (vegetarian) recipes:
[highlight color="green"]Shredded Brussels Sprouts with Maple Pecans[/highlight] 1 1/2 cup coarsely chopped pecans 1 stick unsalted butter 3 tablespoon pure maple syrup 2 tablespoon bourbon 3 teaspoon salt 4 pounds Brussels sprouts 1/2 teaspoon black pepper 2 tablespoon cider vinegar Toast pecans in a small shallow baking pan at 350F until fragrant and a few shades darker, about 10 minutes. While nuts toast, melt 2 tablespoon butter and stir together with syrup and 1 1/2 teaspoons salt. Add maple glaze to pecans and toss to coat. Slice Brussels sprouts in food processor using thin slicing blade. Heat remaining 6 tablespoons butter in a large (13 inch) skillet over moderately high heat until foam subsides, then sauté shredded sprouts with pepper and remaining 1 1/2 teaspoon salt, stirring, until sprouts are wilted but crisp-tender, 3 to 5 minutes. Add vinegar and sauté, stirring, 1-2 minutes. Add pecans and any glaze in baking pan and sauté, stirring, about 1-2 minutes.
[highlight color="red"]Cranberry Salsa[/highlight] 12 ounce bag cranberries 1 bunch cilantro, chopped 1 bunch green onions, cut into smaller pieces 1 jalapeno pepper, seeded and minced 2 limes, juiced 3/4 cup white sugar 1 pinch salt Combine cranberries, cilantro, green onions, jalapeno pepper, lime juice, sugar, and salt in the bowl of a food processor fitted with a medium blade. Chop to medium consistency. Let sit in the refrigerator for a few hours to let the flavors marry. Serve at room temperature.