At GYV, youth have the opportunity to explore new topics and activities each day in their afternoon electives. Electives run in 3-day cycles, with students being exposed to their chosen activity for an hour each day. A wide variety of subjects are offered including baseball, soccer, Arabic, Chinese culture, Contra dance, poetry, and acrobatics, to name just a few.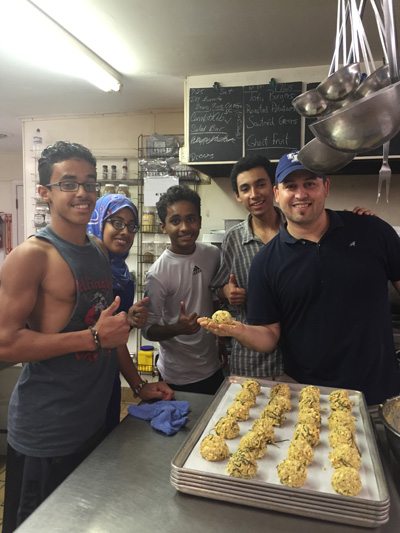 In this current session some youth signed up to learn about "The Great Outdoors".
These campers were given a tour of the community garden where they had a chance to smell fresh lemon balm growing, pick mint leaves for making tea, taste sweet cherry tomatoes in their prime, and harvest a large crop of basil that they then turned into pesto.They got some hands-on experience in the kitchen turning the basil from its original leafy form to a delicious homemade sauce.
The chefs were even so accommodating as to incorporate our finished product into the meal for that evening!The youth enjoyed getting this behind the scenes tour, and many of them expressed interest in growing their own food. We may have some future gardeners on our hands!