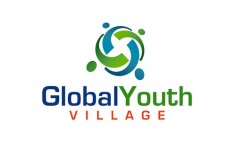 Global Youth Village 2011 is finally in session!  On Monday, I went to Washington D.C. to escort our Iraqi students and some American students to the Village by via charter bus.  What a trip!  On the bus, a smaller group of our American and Iraqi were very engaged in an interesting conversation.  Every now and then, someone would shout, "Are we there yet?"   I would smile and respond, "Almost!"  The 4-hour trip was long, but our driver did a great job of taking a more scenic route through the Lake Anna area and avoiding all the nasty traffic.  At the Village, our Indonesian participants and several U.S. and international participants were already eagerly awaiting the bus.  After weeks of anticipation, all the participants and staff were happy to finally meet and greet each other.  I was so psyched to see everyone after months of recruiting!
The campus is buzzing with life.  Laughter erupts from the audience during Folktale Night where small groups of youth acted out a folktale in costumes on Wednesday night.  Zainab and Noor discussed what they learned in their Peace Building workshop at the store; Kareem and Jacob can't decide whether they want organic ice-cream or chips.  Cabin Counselor Amanda asks for a moment of silence in the dining hall and teaches everyone how to stay 'Thank You' in Chinese before the meal.  More laughter and splashing sounds float up from the pool.  After months of careful planning and preparation, participants have settled into Village life.
The first two days have been quite intense and with orientation, tours, swim and health check-ins, as well as team and community building games/exercises etc.  During orientation, participants engaged in a stimulating exercise called "My Ideal World" where they discussed universal human values and their vision for an ideal world.
Yesterday, youth had their first day of workshops and electives.  In the Peace Building Workshops, participants started off by finding out the meanings of their names and did an interesting exercise using concentric circles.  Today, they focused on being better communicators and worked on improving their listening skills.
This session, participants have the option of choosing an elective from the following offerings: mental mapping, yoga, journalism, Finding Your Voice, drama, basketball, and contra dancing.  Tonight is Arts Night and participants will be engaging in jewelry making, still life drawing, improv, creative writing and other activities.  There is always something appealing going on at GYV.  Check out our Welcome Video for 2011  to meet our staff and stay tuned for more buzz from the Village!
Contributed by Innocentia Afa, GYV Outreach Coordinator