HEYWOOD BIG DAY III a.k.a. '3rd'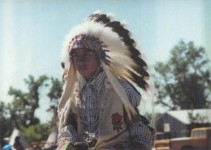 GYV Participant during: 1998, 1999
Education: Guildford College, NC
Major: BS, Criminal Justice with concentration in Community Justice Studies
Favorite GYV Memory: It's hard to pick just one memory, because every single moment that I spent there was memorable. The people, environment, activities, and everything in general was so great. But if I had to choose just one memory, I would probably have to choose the memory of the friends that I made there at GYV. To this day, I still keep in touch with a lot of my old friends from both GYV 98′ & 99′.

Biography:
I was born and raised on the Crow Indian Reservation in Montana. I graduated from St. Labre Indian Boarding School in Ashland, Montana and went on to attend and graduate from Guilford College in North Carolina. GYV certainly made an impression on my life because I decided to pursue a degree in Criminal Justice. I also enjoy art. After college, I traveled to different art shows all over the US with my grandparents and won 1st place at the AICA Indian Art Show. The art piece that took first place was a pair of Traditional Crow Indian Dolls that I had made. The Secretary of Interior purchased the pieces and they are being displayed to this day.
After doing the art world aspect of my life, I started working as a Domestic Violence Responder for the Crow Tribe, under the Rural Domestic Violence & Child Victimization Program. While being a responder, I transferred into the position of Program Director of the Rural Domestic Violence & Child Victimization Program, The STOP Violence Against American Indian Women Discretionary Program, and the Arresting Policies Grant. This was a huge change from what I was normally used to, but I have been helping victims of domestic violence within my nation. One of the major programs in which I assisted in implementing was called "The HOPE Card Project," which is also knows as "The Purple Feather Campaign." The Hope Card Project is an attempt to couple law enforcement's need for information during incidents involving violations of protection orders and the victim's need for streamlined services during times of crisis. The project has been and continues to be reviewed by a variety of professionals directly involved in the prevention of domestic violence, as well as, a large number of victims. The Hope Card is an invaluable tool for law enforcement in the field and will simplify decision making in critical incidents of domestic violence. This project was established first upon the Crow Indian Reservation by the district attorney of Montana. With all the recent publicity we have received, we are starting to go nation wide with the project.
This summer, I plan to visit Ukraine and Russia for a month. I am looking forward to my trip.