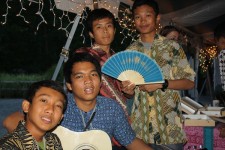 Our 22 Indonesian students have returned home with plans to improve their communities.  Learn more about their projects. 
PROPOSED PROJECTS: GORONTALO
Barak and Awa: My Library is My Life
Conduct a seminar at their school and five area schools about literacy/readership.
Get the heads of each class (16 classes totaling 200 students) at their school to do a needs assessment as a way of evaluating what to purchase for the library; goal is 50-60 books.
Redecorate the library (involving administration, student groups, local government, etc.)
Start a school-wide class contest held each month (read-a-thon)
Fahri and Zein:             Culture for Our People
Establish a community theater troupe focusing on traditional cultural performances; will draw young people from schools in the Bone Bolango municipal area.
Establish a community magazine (published, not wall) that is entirely devoted to the writings of young people in the same area.
Profits raised from selling the magazine and minor ticket prices for performances.
Get other schools involved via promotion via seminars/presentations.
Siti and Yahya:             Healthy Canteen
Their boarding school doesn't have a canteen for students to eat in or provide food.  They want to build a canteen place that sells healthy food.  They'll do a seminar at the school promoting healthy eating habits, a workshop for food sellers that sell at the school (five or six businesses) and build the canteen.
After it is built as a model, will do workshops at 10-15 nearby schools, focusing on elementary schools so as to develop lifelong habits.  They'll do presentations and workshops.
PROPOSED PROJECTS: BATAM
Qisty and Jeri:             School Environment Project
Presentations about environmental issues at their school (there are 21 classes, 26 students per a class, and a total student body of 800 students.)
Start daily school environmental patrols
Recycle fair event with each class competing.  Money raised will be put back into environmental projects.
Ferry and Elsa:             English for All
Start a community English class meeting 2x a week for 1st and 2nd grade children from an at-risk neighborhood.  20 students per class. Classes will  last 90 minutes.
Get a wifi hook up for the classroom along with two computers.  Computers will have educational software for learning English installed and also be available for internet use and computer training.
Get school supplies for the students.
Monthly English competitions for the students to keep learning fun.
Debby and Arin:             Cleaning Out Our Environment (COE)
Involving at least three high schools in their project
Presentations at schools concerning environment – get facilities cleaned, separate trash, collect trash, etc.  Schools will be involved in the craft project.
Start a recycled craft project.  After cleaning and sorting trash, they'll put non-organic trash to use by remaking it as crafts which will then be sold.
Crafts will be sold and proceeds will go towards buying cleaning supplies for involved schools.
PROPOSED PROJECTS: CILEGON
Nia and Aldi: Recycle for Farmers
Involves seven area schools.
Presentation at local schools, separating trash, and starting a program where they will collect the organic trash from the participating schools to compost.
After three weeks of composting, they will provide the compost to area farmers as free fertilizer for their crops.  They'll be collecting hay from the farmers to assist in the composting and as a way of involvement.
Goal is to provide compost to at least ten farmers and provide 50kg of compost a month.
Reza and Sasky: One Hole Change the World
Fundraising and education program to raise money and volunteers for building biopori.  Done through proposals, seminars, and school area competitions (photography contest with environmental theme as an example).
Once funds are raised, students will create the tool for building biopori.
Create 20 biopori in 10 area schools
Create no littering signs and other pro environmental slogans in the same schools.
Cahya and Tulloh: Separation of Rubbish
Seminars on garbage issues at 5 area schools (mixed elementary, middle, and high schools)
Plant at least 10 trees at each of these schools.
Get separate trash cans and signs for separating organic and non-organic trash at each school.
Syarief and Darwin: Let's Start to Keep Our School Clean and Healthy
Fundraise to get supplies for cleaning the schools and organize seminars about cleaning/environment at seven area schools.
Establish weekly cleaning days at each school.  Organic trash will go into Nia and Aldi's project.
Organize a cleaning contest between the 7 area schools with a trophy that moves to the cleanest school each semester.
Talked about ministry of education involvement.
Gandung and Shopi: Garbage is our Friend – 3 pg translate
Separate garbage at their school and five area schools (presentations – one day seminars on environmental issues and recycling)
Recycle fair between classes at the six schools.
$$ raised via the recycle fair will be used to buy food that will be dispersed to poor families.
The Indonesian Youth Leadership Program is
Supported by the US Department of State – Bureau of Educational and Cultural Affairs