In  December 2011, President Obama designated January as Human Trafficking Prevention Month to draw greater awareness to this serious global issue. Every year, hundreds of  thousands of people (mainly women and children) are illegally sold into slavery and forced into a life of prostitution and forced labor.  Ludwig "Tarzan" Fainberg, a convicted trafficker, said, "You can buy a woman for $10,000 and make your money back in a week if she is pretty and young. Then everything else is profit."*
As a direct result  of human trafficking, did you know that are more slaves in the world today than there were at the height of the transatlantic slave trade? Yes, a  shocking fact, but slavery has  taken on a different personality in the modern world. There are about 30 million people living in slavery all over the world.  Because human trafficking   takes place in the shadows and is a highly illegal activity, it is challenging to track and solve the problem.  The Polaris Project has documented compelling stories of victims like Claudia who was trafficked and handled across so many cities she had no idea where she was when she was finally taken in by law  enforcement officials!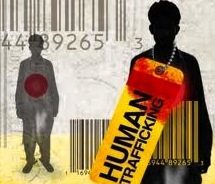 At Global Youth Village international summer camp, participants often discuss global issues like human trafficking during Global Issues Night. Education and awareness is always the first step towards solving a huge and serious issue like human trafficking. Participants get inspired at Global Youth Village and find ways to take action after they leave GYV. For example, during Global Issues night, they would find out  about Not For Sale – an organization that fights the root causes of human trafficking.  Not For Sale's action center offers participants (and professionals) the opportunity to get involved in the"Become an Abolitionist Campaign" and raise awareness in their own communities.  At GYV, we inspire and equip teens to become advocates and a leaders for change on pressing global issues.
*Source: Skinner, E. Benjamin. 2008. A Crime So Monstrous: Face-to-Face with Modern-Day Slavery. New York, NY: Free Press.