Jonathan Larson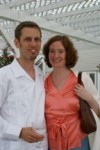 GYV Staff Member: '97, '94
Education: BA in History and German, University of Vermont; MA & PhD in Anthropology, University of Michigan
Favorite GYV Memory: Cultural sharing nights and all the impromptu stuff that often happened after them.
Most interesting country visited: Japan
Biography:
I grew up spending a lot of time on the road between the mountains of Vermont and the beaches of Cape Cod. Perhaps that has something to do with the direction my life has taken since. In high school I participated in exchange programs to Japan and what was then the Soviet Union. I tried to share as much from these travels as I could with other members of my community, meeting with teachers, local businesspeople, and even appearing on local television.
After a year at the University of Konstanz in Germany during college, I decided to return to Europe to teach English in Slovakia for two years. When I returned to the US, I decided that I wanted to develop tools that would give me deeper insights into other cultures and ended up in a doctoral program in cultural and linguistic anthropology, a subject that I had somehow never known much about it. It's been a perfect fit, and the last two years I've been thrilled to have the chance to use my graduate education and experiences with other cultures to teach courses on cultural anthropology, language and culture, capitalism, and Eastern Europe and the former Soviet Union at Miami University outside of Cincinnati, Ohio.
For the coming year I will be turning my dissertation into a book with a postdoctoral fellowship at Columbia University in New York. Based on two and a half years of research in Slovakia during graduate school, my dissertation questions the ethnocentrism with which Americans (and Westerners) think of certain cultures as possessing or lacking "critical thinking." It is a study of classroom practices and political culture in Slovakia that also proposes new ways for thinking about how language contributes the nature of a political system.
As I write my wife, Deborah Michaels Larson, and I are about to celebrate our fourth wedding anniversary. Deborah is about to finish her PhD in the history and sociology of education, with a comparative global emphasis. In my spare time I love listening to new music (my actual playing is a bit stalled at the moment); exploring whatever geographic area I happen to be living in (I've really continued to grow since coming to this part of the Midwest from the Northeastern U.S.); having friends over for dinner parties with me and Deborah (especially if we spend the evening speaking a second language); and recreation outdoors ranging from biking rural roads, to hiking the mountains of Slovakia, to swimming in the ocean, to playing basketball at the gym.