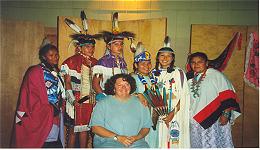 Legacy honors The Kelly family – Susan V. Kelly, Founder and Executive Director of Kelly Foundation, her mother Nancy and father Dan who have for the past 30 + years sponsored more than 200 young people to Global Youth Village as part of a larger support strategy for teens at risk from refugee and Native American backgrounds.
In the early 1980's there was an influx of Vietnamese and Cambodian children arriving in the US with heir families. The youths were moving into an affluent culture form the day-to-day survival mode as "boat people" or escaping the "Killing Fields" of Cambodia.  The Kelly family took interest in several families and supported young people to attend GYV as a way to help them acclimate and see themselves as global citizens with the potential to change the legacy of hate they escaped from.
In the early 1990s their focus shifted to Native American reservations where young people were isolated and their futures corrupted by hopelessness that comes form poverty.  The young people they sent to GYV came form more than 30 tribes across the US.  This first exposure off the reservation gave them confidence to enter and stay in institutions of higher learning.  The Kelly Family has been very comprehensive in their approach to young people, providing counseling to the entire family when needed.
Dan a retired lawyer, businessman and CIA employee became instrumental in the financial and fundraising areas of the foundations.  All of Susie's drive came form Nancy's models of generosity.
In addition to the Kelly Foundation Susie, Dan and Nancy also have been instrumental in establishing the Center Pole at Wellknown Buffalo.
The Center Pole is a community-based organization whose mission is to empower Native American reservation youth through knowledge, experience and global awareness and train them as agents of change, to promote the exchange of information, ideas and understanding between Indian reservations and the mainstream, and to conduct projects to promote a just future for Native communities.
An important component developed by Susie and Peggy White Wellknown Buffalo, Executive Director of the Center Pole is a cross-cultural service learning component. Individuals and organizations from across the country partner with volunteers from within the community on a variety of service projects and experience Crow culture firsthand.
Native American youth volunteers learn valuable leadership skills and earn volunteer hours, making them eligible for national and international education programs.
"Ninety two per cent of Native American college students who enter college drop out."
The Kelly Foundation is the educational arm of the partnership, where Native American reservation student prepare for college and receive the type of support and guidance necessary for success.
The Center Pole has distributed more than $1 million worth of basic necessities to people living in poverty on the Crow, Northern Cheyenne and Ft. Belknap Indian Reservations using local volunteers. It has assisted more than 500 Native American youth in attending mainstream educational programs, colleges and universities. It contributes to the preservation of Crow Indian art, culture, history and language and supports increased awareness of living Native American culture. The Center Pole was recently honored nationally with the Res 2009 Youth Entrepreneurship Advocate of the Year Award and an award from the Petra Foundation.