At the Global Youth Village, we believe that young people learn the best by doing.  We also believe that youth have the most fun when they are engaging in their world in meaningful ways.  Of course recreation activities like swimming, sports and tie-dye are a blast – but we know that the kind of experience that stick in the hearts and memories of young people are those that require a bit thought and effort.
This past week, participant at the Global Youth Village completed spent several days completing activities like this.  On Tuesday and Wednesday, the worked together to write, perform and produce their own songs.  On Thursday, they traveled to Roanoke and Salem, Virginia to complete Community Service Projects.
Anne Elise Thompson, Board Member at Legacy International, led the students in a two-day, multi-level song writing experience.  During the Arts and Human Rights workshop, students divided into groups to write songs inspired by quotes about peace.
The experience was not only creatively stimulating, but it also challenged students to work in teams with youth from various countries.  One group performed a song in three languages: Spanish, Japanese and Chinese!  The song was complete with  beat-boxing and rapping.  Students in this group were from Japan, Taiwan, China, Guatemala, Ghana and the United States!
The next day, students stepped outside their comfort zone yet again, to complete service projects at FeedAmerica in Salam, Virginia and the Rescue Mission in Roanoke.  11 students helped the Rescue Mission organize and clean their thrift store, which raised funds to support their shelter and soup kitchen.
The other group went to FeedAmerica's distribution center, which provides food to hundreds of food banks across Southwestern Virginia.  Students assisted in the "quality-control" room by sorting donations and inspecting packaging for damage.
Students also had the opportunity to interview other volunteers at each site.  The learned why people are drawn to volunteer:  long long-term volunteer shared with Wennie, from Taiwan, that "the work I do isn't fun, but I do it anyway.  I do it because I know there are people that couldn't eat without my doing this work.  That's why volunteer here."
After their hard work at the Rescue Mission and FeedAmerica, students were treated with a lunch out at the Hibachi Grill and Buffet (eating veggie for 2 weeks is a fun adventure, but some students just needed a bit of meat to keep going!) and a hike to see the Cascade Falls along the Blue Ridge Mountains.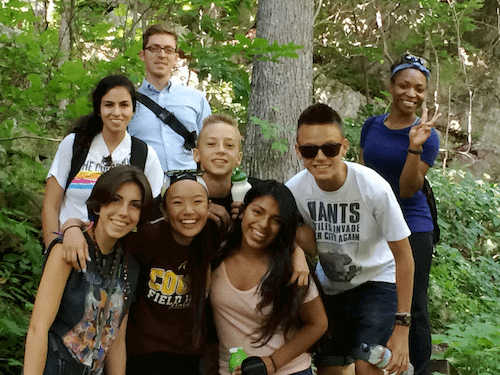 Stay tuned for more news from the Global Youth Village – and to hear the songs that all the students wrote!