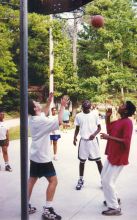 First Lady Michelle Obama recently unveiled her "Let's Move" campaign a national public awareness campaign against childhood obesity.  A staggering statistic….one in three American children are overweight or obese, putting them at a higher risk for developing diabetes, high blood pressure, high cholesterol and other illnesses.  Here at the Global Youth Village, healthy eating habits are a way of life and we teach our participants the importance of a healthy balanced diet.
"Let's Move" is a campaign geared to target all aspects of a healthy lifestyle including helping parents make better food choices, serving healthier food in school vending machines and lunch lines, making healthy food more available and affordable, and encouraging children to exercise more.
Here at the Global Youth Village, our daily activites and diet mirror what this campaign is trying to promote. Our menu is predominately vegetarian with tasty international foods and all of our dishes are prepared with natural foods and whole grains. The youth learn the importance of a healthy diet for their physical and emotional well being. Each day of our sessions we encourage our youth to get involved in one of the numerous recrational activities we offer!  So if your looking for a place to "Let's Move" visit us at GYV!