ARA FRIEDMAN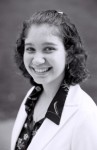 GYV Staff/Participant during:  2002-2004
Education: Graduated from World Community Education Center in 2005.  Will graduate from Randolph-Macon Woman's College/Randolph College in Lynchburg, Virginia in 2009.
Major: Political science
Favorite GYV Memory: It's hard for me to pick a favorite memory as GYV was such an important and enriching experience in my life but I think the two memories that pop to mind both have to do with rain!  In 2003, on the last day at GYV, we had a big soccer game in the rain, which was so much FUN!  In 2004, I remember my cabin Salaam was cleaning up from lunch and it started pouring down rain.  Malaika Spencer and I ran all the way back to our cabin and got completely soaked!  Nothing like giving up to the feeling of getting soaked.  That was fun.  🙂
 Most interesting country visited: Israel and Greece when I was 4.  Unfortunately haven't traveled abroad since then.
Biography: I am currently participating in the Washington Semester Program at American University and I have an internship with Senator Jim Webb from Virginia and a French roommate.  I am enjoying this unique opportunity as my first time in a dorm, living in a big city, and first time having any interest in French, which I studied for many years!