Here are guidelines for effective dialogue that we practice during the Peacebuilding Workshop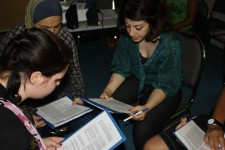 1) Don't ask a person to answer on behalf of an entire group/don't attempt to speak for an entire group
2) Be aware of your mode of communication – timing, tone of voice, body language, privacy of conversation – all play an important role n how your conversation partner will feel in answering your questions.  Remember their sense of timing; tone of voice etc may be different than your own.
3) Watch your assumptions – don't assume you know the other's motivations, rationale or opinion, ask for clarification.
4) Check yourself before speaking: is the question appropriate?  Why do you want to ask it?  Why do you want or need the information?
5) Respect the person's choice to accept or decline to answer your question.