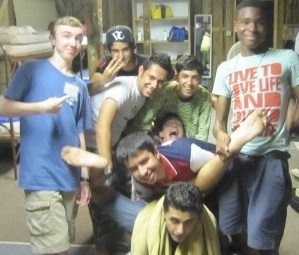 Our Peace Building Session C is winding down. Right now, participants are in the dining hall  for their recognition dinner. Most of them have dressed up for this special, culminating event and they are receiving their certificates. Everyone has put so much into this session and have gained a tremendous amount in the way of dialogue and peace building skills.
The last few days at GYV have been very full. Tuesday was cabin night and participants spent quality time with their cabin sisters and brothers. Night swims at the pool, dance parties, trust walks, board games, and baking, have all been activities that cabin mates do on cabin night.  Wednesday was Global Issues Night and the theme  for this year's discussion was public health. Participants sat together in smaller groups and discussed HIV/AIDS (very appropriate as  the 19th annual AIDS conference was in session in D.C.) and  capacitar (post trauma and healing techniques). There were some interesting electives offered during the second half of the session as well: anthropology 101, volunteerism, voice with world renowned singer Charles Williams, and public speaking, and cartooning.
[framed_video column="half"]http://www.youtube.com/watch?v=g4VYDS0U7Lw[/framed_video]
Last night was the highlight of the program for several participants. We had an evening program of cultural sharing.  Respect for and understanding of other cultures is a a key feature of the GYV experience. There were display tables in the tent representing  various regions and nations that participants  and staff are representing this year: West Africa, Kyrgyzstan,  Hawaii, and Iraq. Participants prepared power points, dances, songs etc to share with each other. It was a memorable evening and everyone learned a lot!