Summer Staff Positions – Summer 2020
Click on the colored text/tab below to see what summer positions are open: 1) workshop (teaching), 2) administrative & program design, 3) counseling, 4) support services (health care/safety, facility support), and 5) food service. (Interns typically fit into # 2, #4 or #5.) After reviewing positions and hiring criteria, please visit the staff application page.
NOTE: As of Dec 2019, our web site is getting a much needed "make over". If you cannot access key information regarding your job search with GYV, please email staff@legacy.org
Administrative staff design and guide the community experience at GYV. Administrative staff support and collaborate with the counselors & workshop instructors, maintain contact with parents, design all Village events, arrange travel logistics, and more. (Applicants must be 25 or older.)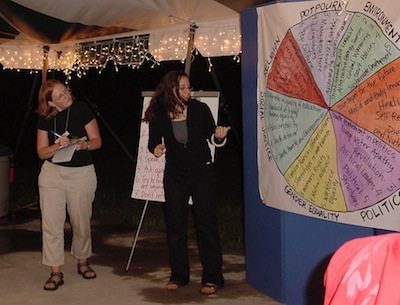 At the foundation of the Village's experience is a series of integrated workshops focused on dialogue and contemporary world issues and specifically designed to transform and inform young people's world view, awareness of self, critical thinking and decision-making skills. Workshop leaders create a safe, interactive learning environment for teens and young adults to learn and deeply engage in discussions around world issues (poverty, climate change, refugees, gender issues, etc.), develop communication skills, as well as conflict prevention and prejudice reduction methods. Participants represent a variety of backgrounds, cultures and English fluency, and range in age from 15-20 years old.
Workshop staff are experienced teachers and facilitators. Applicants are expected to have professional teaching experience with teens and/or young adults. GYV's trainers must also be proficient in designing lesson plans, managing classroom dynamics, experiential training methods, and working with multicultural groups. These are not entry level teaching positions.
2020 options include: 1) LivingSideBySide Workshop Instructor/Facilitator; 2) Contemporary World Issues Workshop Instructor/Facilitator (details to be posted in January)
Global Youth Village cabin counselors are diverse in culture and youth work experience. Each cabin is staffed with one counselor and is home to 7-10 participants. Cabin life serves as an important foundation to the Village experience by creating an accepting and secure environment.
The counseling team works closely together to promote sensitivity to all cultures, encourage personal development and integration, and ensure safety. Counselors are role models of participation, cooperation, care, and respect and are responsible for guiding youth through their GYV experience of self discovery; contributing to a deeper understanding of one's self and how personal actions affect the world around them.
Counselors fill many roles at the Global Youth Village. They not only live in the cabin with the youth, but share meals with them, conduct cabin meetings, plan and deliver cabin activities, and attend evening programs with their cabin group. In the afternoon, counselors teach activities such as swimming, sports, studio arts, and nature activities, as well as assist in planning and implementing evening programs. (Options are explored during interviews.)
Inspired? Please review the counselor job description.

Day in the Life of a GYV Counselor
Wake up
Breakfast with Cabin (8:45 am) & Breakfast Clean-up (9:15 – 10:00 am)
Counselor Meeting (l hr) or Personal Time
Lunch with Cabin (12:45) & Lunch Clean-up with Cabin (twice a week)
Siesta with Cabin (1:30 – 2:15 pm)
* Teach Elective (2:30 – 3:30)
Café Time
* Teach TLC (4:00 – 5:00 pm) (Teamwork, Leadership & Community)
* Recreation Time (5:15 – 6:30pm)
Dinner with Cabin (6:45pm)
Evening Program with Cabin (8:15 – 10:15pm)
Lights Out (11:15pm)
*Counselors are scheduled for two of the following each day: elective, TLC, recreation time activity
GYV's home-style meals are delicious! Our professional food service staff provide three meals daily to approximately 80 people, featuring vegetarian dishes with international flares. We strive to provide unprocessed, regionally grown produce and fruits, whole grains, beans, and dairy products, accented by produce and fresh herbs from GYV's organic gardens. International entrees are prepared from countries such as Greece, the Egypt, India, Indonesia, and Nigeria, as well as traditional American "comfort food"! Special diets can be accommodated, including vegan and gluten-free options.
During 8 hour shifts, kitchen staff have varied responsibilities: food preparation, dish washing, stocking and cleaning. (Applicants who are high school graduates and at least 20 years old will be considered for entry level kitchen assistant positions.)
Hospitality / Culinary Arts / Food Service Intern (click on "Intern" tab above)
Health Care Positions are open for either a licensed RN, LPN or a lay person with a minimum of first aid / CPR certification and some experience in a health care role. (Student nurses or recent graduates are welcome to apply.) Duties vary according to level of experience and license. Work may include: health screenings, providing 1st aid at all-Village events, caring for ill staff or participants, escorting people to the local physician's office, stocking 1st aid kits, administering routine medications. Applicants must be 21 or older, with a valid U.S. or Canadian driver's license. Current 1staid and CPR certification is also required.
Health Care Intern (click on "Intern" tab above)
Facility & Program Support: Prepare, clean and set-up general program areas, including daily cleaning in bathhouses. Help set-up for evening programs and special events (moving props, decorating, stage or sports events set up). Prefer if candidate is a licensed driver (U.S. or Canadian). Must be self-motivated, able to work effectively with minimal supervision, tolerant of summer heat (and bugs), and organized! (Applicants who are high school graduates and at least 19 years old will be considered). For details, please review the job description.
Full Time Summer Internship Options: GYV internships are full time residential roles. Submitting a staff application is required. Only those people who are able to attend our staff training, and commit for the full program dates will be considered. (Housing, meals and a stipend is provided.) Substantive roles with professional development opportunities well suited for internships are available in:
Administration (cultural & global issues event planning; scheduling & logistics; communications/social media)
Education (sports & recreations or arts & crafts instruction)
Hospitality / Culinary Arts / Food Service / Dining Hall Management
Health Care (nursing or social work student or recent graduate, or interest in health or social work fields. No license required.)
More details? click here.

To apply, complete the Program Application.
If you are not interested in a full time summer internship, check out this link for other options.