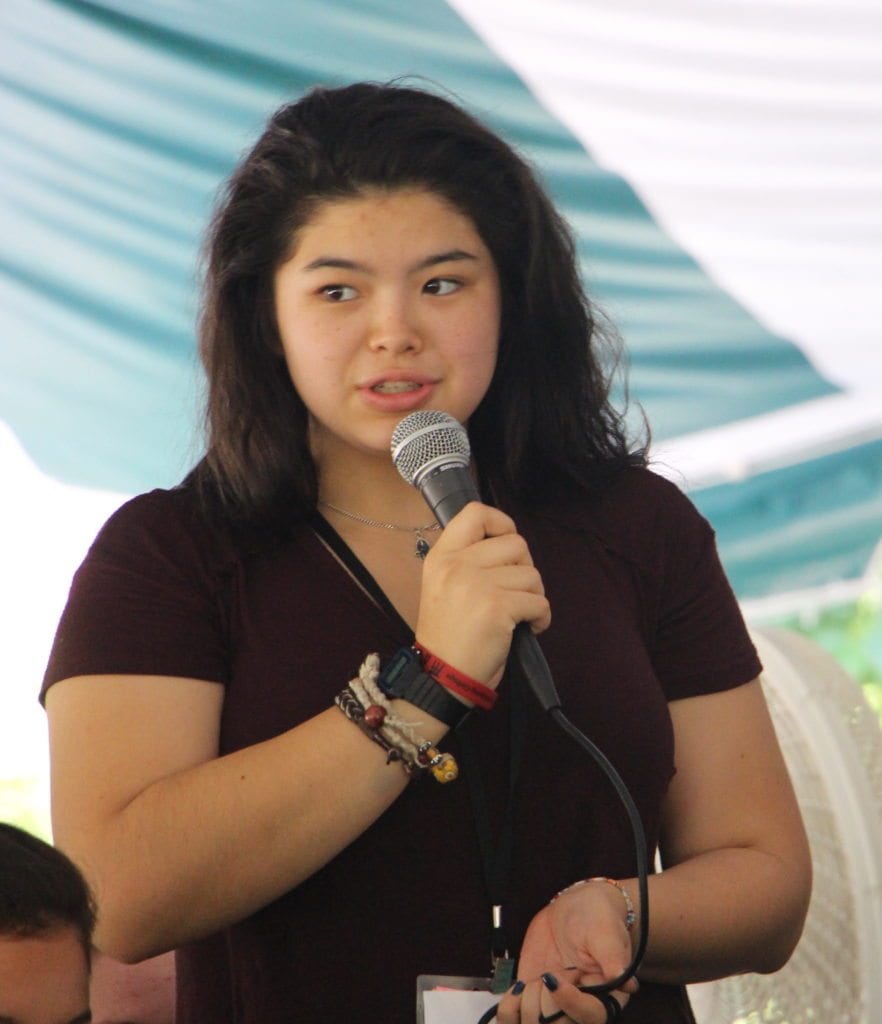 Most participants at Global Youth Village are here for the first time. And for the case of many, this is their first time at camp, or even their first time away from home! Most campers come with no clue what to expect and are along for the ride.
However, Hanan is a returning participant who is experiencing all GYV has to offer for the second time. She is a rising junior from Bedford, Virginia.
Hanan shared more about her experiences at GYV both this year and last year.
After coming last summer, what things did you learn?
I'm finding out that the people who come make the village—so, it's different every year. Everyone has different dynamics, different countries, and different cultures coming together.
I feel like I can come a second year and be sure that I'm going to get a different experience.
Why did you decide to come back to camp this year?
I wanted to come and have that sense of home and family again. I feel like I wanted to have that experience again and work on my communication skills and learn about different cultures.
What is one thing that transformed for you last year?
Where you are and how you're raised and what your surroundings are definitely change how you view "normal." Now that I know people from different countries, as soon as I hear that country in the news, I'm all of a sudden very interested to know more. Because I feel like I am more attached to it. It made me realize: "What if I knew someone from each country? Would each country be important to me?" It shifted the way that I view everyone and everything.
What have you learned during your second summer at GYV?
One of the biggest thing I learned this summer at GYV is this; to be able to make changes in this world, you have to be able to change yourself. To change yourself, you have to learn to know yourself. I also learned that I have a lot to learn, and learning never stops. We have to embrace each other's differences and understand others for what they believe.
How did your camp experience differ between the two summers?
In a way, I could say both summers gave me a similar experience; a chance to meet new people, to broaden my worldview, to experience new cultures, to explore myself, and to figure out what I find important in the world. A place where I can freely be myself, love everyone, and be loved. But as I found out this summer, the dynamic of the camp changes depending on who comes. There are different staff and participants. The people who come give GYC a different personality each year. And of course, I'm one of those people. I've changed since last summer, too.
Last year, I learned that every single moment at GYV is precious; there is so much to be learned and so little time. So, I started conversations. I spoke about my thoughts and listened to others. I wasn't shy. I met as many friends as possible and I gladly embraced another family. Both summers I found a family. But two different families, with different people and different personalities. Different jokes and different memories. Different cultures and stories. I had a different experience, but the same feeling of being accepted, awakened, and loved.