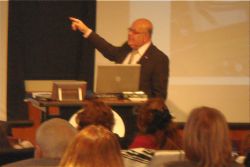 On January 11, 2010, as part of our 30th anniversary, Legacy awarded Dr. Harold Robles, Chairman of Our International Board of Directors, with our 30th Anniversary Service to Humanity Award. More than 25 years ago, Dr. Robles founded the Albert Schweitzer Institute for the Humanities.  After meeting Dr. Albert Schweitzer,  Robles realized his responsibility to the Global Community. He says his inspiration for all his past, current and future work stems from his first meeting with Albert Schweitzer at the age of 11.
In 1999, Dr. Robles co-founded the Medical Knowledge Institute. MKI is a non-profit organization that believes and treats health care as a human right rather than a privilege. Dr. Robles believes that the future of medicine around the world is prevention thru education. An astounding fact is that 10 million children under the age of 5 die every single year from CURABLE diseases. According to the World Health Organization, for each General Practitioner there are 194,000 patients. MKI's trainers give vital skills to people to treat and prevent diseases. For example diarrhea the number one causes of death to small children in impoverished regions. 13% of the children die from diarrhea. By empowering the people with knowledge today, you are saving the lives of tomorrow. Now that is peace worth building.
Dr. Robles endorses the Global Youth Village as a place where young people can concieve of themselves as social innovators.  All social innovation starts with a goal or dream. GYV is place where you can start to discover your vision and find out how one person can make a difference.
Come to GYV and you can meet people like Dr. Harold Robles.
Support women living with HIV/AIDS by purchasing YOELL exclusive jewelry hand crafted by HIV-infected women in South Africa.  With the money earned they are able to become economically independent and to support their own family.