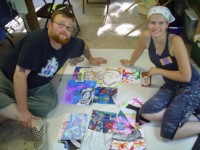 At the Global Youth Village, we like to offer a variety of activities to the young people. The staff team, therefore, needs to collectively possess a wide array of talents and abilities.
In addition to a counseling, teaching or health care duties, staff applicants are encouraged to apply for one (or more!) of the following positions according to your interest and expertise.
Elective Leader: Plan and teach a weekly elective. Electives are 3- 4 day courses taught by Village staff and designed to offer youths sports, arts, intellectual or leadership skill building. They provide a chance for the youth to explore individual interests and give staff an opportunity to share varied skills or knowledge. Electives range from beginning swimming to batik, ultimate Frisbee for beginners, basic sign language or creative writing. Little or no teaching requires; training provided for those with no experience in curriculum design
Youth Services Coordinator:   Work closely with Youth Outreach Coordinator and GYV Director in supporting the overall youth experience.  This includes:  monitoring the use of the computer lab by youths and other staff,  facilitating a youth team in creating copy for the GYV blog, and photo documentation.
Art Studio Coordinator: Manage the Village art studio. Oversee activities that take place in the studio, in addition to managing the art supply budget and maintaining the space in a clean and orderly manner. Promote the integration of the arts within the workshops by planning varied art activities with workshop instructors. Work with other staff to draw out their artistic teaching talents.
Arts & Crafts Leader: Plan and teach varied art activities to Village youths during electives, free time activites or during special weekend events. Help with set design for evening programs. Work as part of a talented team with skills in pottery, weaving, drawing, crafts, silk screening, graphic design and set design.
Pottery & Ceramics Leader: Teach weekly pottery "electives." Knowledge of hand building and wheel use, plus ability to safely operate and care for a kiln required.
Theater Leader: Use creative dramatics, theater games, acting training, and other techniques to help youths explore and express of issues of concern during weekly "electives" or for special events.
Sports & Recreation Leader: Organize and deliver camp-wide recreational events such as the "Legacy Olympics," scavenger hunts, sports tournaments. Previous event organization experience required. Experience in non-competitive helpful. Applicants should be outgoing and have an ability to motivate & manage large groups. Duties also include maintaining sports equipment.
Team & Non-Competitive Games Leader: Lead workshop and cabin groups through ground initiatives and other team building activities. Documented experience and training in leading and debriefing ground initiatives required. Skills are also needed in evaluating the safety of and conducting minor repairs of equipment.
Rock Climbing Leader: Teach beginning rock climbing during "electives" on the Global Youth Village's natural climbing site. Must be an experienced rock climbing teacher. Certification from a nationally recognized organization is required. First aid & CPR certification is also required.
Pool Director: Oversee the activities and maintenance of the pool. Train and orient the lifeguard team, oversee their schedules, and problem solve as needed. Maintain safety and hygiene standards. Requires prior experience as a certified lifeguard for at least 6 months, but need not be currently certified. Proven knowledge of pool management and maintenance also required.
Lifeguard: Serve as part of a team of pool staff to create a welcoming, safe swimming area. Uphold safety and hygiene standards. Current American Red Cross certification (or equivalent) is required. First aid & CPR certification also necessary. Swimming instruction experience helpful.
Assistant Lifeguard: Serve as part of the pool staff team, to create a welcoming, safe waterfront area, and uphold safety and hygiene standards. Must be a good swimmer. No certification required. Training provided.
Logistic & Scheduling Coordinator: Work as part of the administrative team to plan and implement program logistics: designing daily schedules, planning trips, coordinating usage of recreational facilities, plus "electives" & special activities coordination. Must be very organized, facile at adjusting staffing assignments as special needs arise, and able to manage numerous details. Strong word processing skills required.
Arabic Language Instruction: Provide beginning level instruction in Modern Standard Arabic. Stimulate their interest in further study and in the potential for exciting career and international study opportunities. Applicants must be fluent in Arabic, with previous classroom teaching experience preferred.
English Language Instruction: Use innovative, enjoyable, accelerated methods to improve English fluency (beginning, intermediate and advanced levels). Previous classroom teaching experience is preferred.
Stage Technician: Support and enhance all-village events through the set-up and monitoring of sound system, slide or LCD projectors, and any associated lighting needs (4-5 evening a week). Assist in the set-up and break down of sets. Training or experience in the operating of simple sound systems required. Experience operating LCD projectors preferred. (Professional stage technician experience not necessary.)
Health Care Manager: Work as part of a team to ensure the health and well being of all Villagers. Under the guidance of a licensed professional nurse, assist in providing basic health care. Duties include: assisting with health screenings and 1st aid, assisting in care of ill staff or participants, escorting people to seea local physician, stocking 1st aid kits, administering some routine medications. Must be 21 years of age or older, with a valid U.S. driver's license. Current 1st aid and CPR certification is also required.
Housekeeping & Program Set-up: Prepare, clean and set-up guest facilities and general program areas. Duties also include delivering supplies and equipment to bathhouses, cabins, and program areas. Must be a licensed driver (U.S. or Canadian). No prior experience necessary, but must be self-motivated, able to work in the summer heat, and organized!
Prep Cook: Work part time with the food service team, preparing salads, learning how to make bread, or special international dishes. (See Food Service for more details.)
Trip Leaders: Select staff may be assigned to serve as trip leaders / facilitators to lead a youth group during a short stays in Washington DC (just prior to the beginning of each session) or during day trips to meet with local community leaders during the  "Community Involvement Program" at the end of the summer.  Applicants need to have previous trip leading experience, be 1st aid & CPR certified, able to serve as a driver (21+, U.S. drivers license required), plus a facile knowledge of the Washington, D.C. area.
Driver: Select staff who are 21 years or older, with good driving records & a U.S. license may be assigned for various short term driving needs.  These may include local airport pick-ups or drop- offs on arrival and departure days, escorting youths to church services on Sundays, or the occasional shopping trip for program supplies.