It's hard to believe that Session 1 is already over. Time flies as you're having fun!
As is the GYV tradition, we wrapped up our time together with Sharing Night. This final evening provides an opportunity for the students to display their talents and skills for all the camp to see. Many of the elective classes develop a presentation to showcase what they've been working on, and other students bravely sign up to give a solo performance.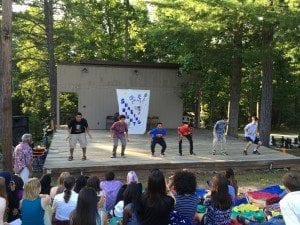 This year was no different than years past in the incredible diversity of acts. The show included a salsa/merengue/hiphop mash up performed by those in the "Wepa!" dance elective, readings of original poetry by participants involved in the poetry elective, and a beautiful rendition of "Kumbaya" as sung by the GYV youth directed by Charles Williams. Campers also played the guitar and mandolin, sang, and breakdanced.
The youth showed no signs of stage fright as they bravely shared their talents with the crowd. Each performance was moving and entertaining in its own right and everyone received an enormous round of applause.
We are sad to see the campers go, but we look forward to welcoming another equally-talented group for Session 2!