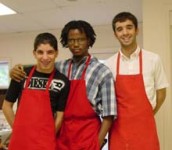 Giving and serving is at the heart of the Global Youth Village. The program, from its founding, was built by volunteer labor, with donated materials, and through volunteers lending talents in a variety of ways, as counselors, cooks, nurses, carpenters, artists and trainers.  Each year, the Global Youth Village attracts a number of people wishing to either volunteer their talents or fulfill internship requirements towards degree programs.
Volunteering is an option for any person 20 years of age and older, who meets the basic hiring criteria for the program.  An application and interview is required for any volunteer applicant.  Only those people who are able to attend our staff training,  and commit to at least one full session will be considered.   (See calendar.) If you wish to offer your talents for a shorter period of time (i.e. 1-3 days), please contact our staff director to explore the possibility of coming as a special guest.
People wishing to volunteer are encouraged to express what they wish to contribute and gain from their experience at the Global Youth Village.  Our Staffing Committee will then work with the volunteer applicant to determine the most suitable role for the person, given these goals. Volunteers are welcome to apply for any of the listed positions or a role can be tailored for suitable candidates.
The Global Youth Village provides volunteers with room, board and supplemental training.