In a recent interview, Gianpiero Repole, encouraged GYV alumni to stay connected with one another, and remember the lessons learned at GYV.
Gianpiero, a GYV intern in the 80's, has lived and worked across the global, from Bologna, Minneapolis, Istanbul, Vienna and Hong Kong Dubai and now London.  Along with his wife and three children, he now calls London home.  He frequently travels internationally for his career in commodities trading.
What are some of your favorite GYV memories?
"Sharing ideas and learning from Mr. Rash's vision and wisdom over a cup of Arabic coffee.  Also, cooking in the GYV kitchen.  My primary role at GYV was in the Financial Office, but the Kitchen Staff was always welcoming, and it felt great to share my love through food."
What lesson did you learn at GYV that's been helpful in your life?
"Always make sure you have the full facts about any situations.  Face any issues that come up promptly and directly. These two things are part of  my management credo, for better or worse…"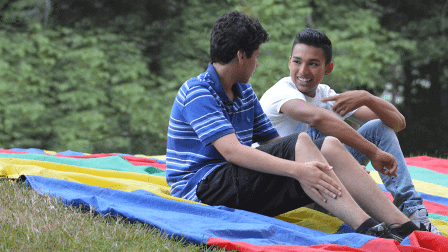 What advice do you have for young people attending GYV?
"GYV is a once in a lifetime experience; its also an experience that lasts a lifetime.  Make friends while at GYV and cultivate those relationships after you leave.   Spread, among family and friends, some of what you gained and learned at GYV.  That way the experience keeps growing."
 What career field are you in?  What is your role?  What do you like most about your job?
"I work in Commodities trading and am the Commercial Director for a firm in the UK.  Through my work I have high level contacts all over the world, and access to incredible food anywhere I land – over 55 countries so far!"
Wow!  That's a lot of countries!  What is the most meaningful thing you've learned from your international travel?
"Every day is better than the previous one, so we only look forward to what's yet to come"
Did you attending GYV with Gianpiero?  Leave a message for him below!