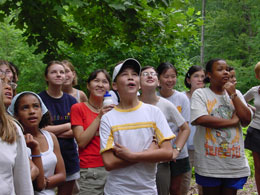 Take the Global Citizen survey
If you are considering Global Youth Village  international summer camp,  you are well on your way to being a global citizen.  Take the survey below.  If you answer yes to most of these questions, then the GYV is the place for you.
Would you like to have friends around the globe and across the U.S.?   Yes     No
Do you like social studies and history?   Yes     No
Do you often reach out to those in need at school, in your neighborhood?   Yes     No
Are you curious about other cultures and people?  Would you like to know their opinions and lifestyles?   Yes     No
Would you like  to become a better leader by getting leadership training?  Yes    No
Are you interested in meaningful discussions about  global issues in today's world?   Yes     No
Would you like to see a world where peace and security are the norm, poverty is minimal and shrinking every year?  Would you like to see citizens who are actively engaged in creating equitable solutions to social needs. Should youths see a future filled with hope and opportunity?   Yes     No
NEXT STEP:  Send in an application.  Your application is reviewed by a selection panel and you will be notified within two weeks of our receiving the forms.   Enroll now.
Interested in a Summer Staff position?  You must be 21 years and older.  Please read our staff section carefully.